Chassol
Christophe CHASSOL -  composer, piano
"I think music is quite powerful because it sums up many things: space, time… I think that it makes present a lot of invisible things like some feelings for instance. Still, for me, the art that works the best is cinema: it has it all."
French pianist, composer and arranger Christophe Chassol utilizes unique composition methods to create music equally suited for the big screen and the concert hall. His appeal spans the worlds of pop music, film and contemporary art, with a breadth reminiscent of Philip Glass, reimagined for the 21st century.
Parisian pianist and composer Christophe Chassol devoted his lifetime to music, leading him to focus on film scores, experimental items, and also dabble within the realms of pop. At age four, Chassol was signed up for the Institut Country wide de Musique, a conservatoire in Paris, to review piano. He continued to be in the conservatoire for 16 years before shifting to America, where he went to Boston's Berklee University of Music, graduating in 2002.
Chassol's compositions are based on original film footage captured during his travels-- in New Orleans, India, Martinique, Paris and Tokyo. This footage serves as a catalyst for musical sequences created with piano, keyboards, percussion as well as vocal and instrumental arrangements that harmonize the sights, sounds and colors of the films. Chassol calls this method "ultrascoring."
Born in 1976, Christophe Chassol entered music academy at age 4 and studied there for 16 years. He secured a grant from Boston's Berklee College of Music, where he graduated in 2002. For the next 15 years, he composed for cinema, television and advertising. In subsequent years he performed
regularly with French pop artists such as the band Phoenix and Sébastien Tellier.
More recently, Chassol has worked with American singers Frank Ocean and Solange, contributing to their respective albums. Chassol is also active in contemporary art, collaborating with artists Sophie Calle, Laurie Anderson and more recently Xavier Veilhan at the Venice Biennale in July 2017.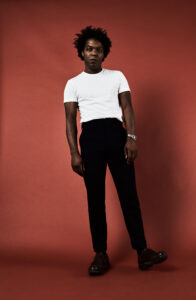 photo: Flavien Prioreau